I've done a couple of these so far, and they're always super interesting. This post is really long, so you can jump about with these links, and you absolutely shouldn't read it from top to bottom like a book!
Some Graphs
Lengths
It makes sense that there are more short articles than long because you can fit more shorties into a given length book, but the interesting thing is that the peak is shifted to the right over the default of people's overall Pocket which seems to be at about 2–3 minutes, this peak is over 6ish minutes.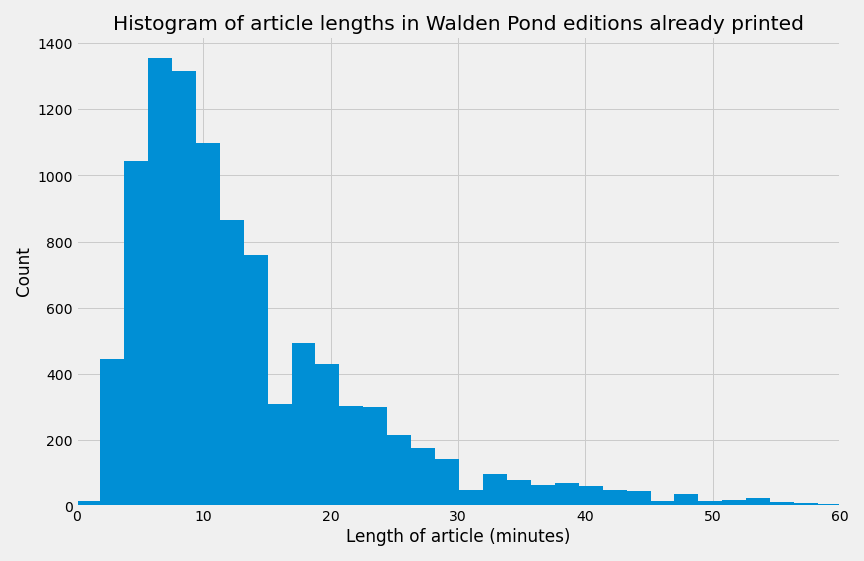 Authors
Ben Thompson gets the top slot here down to one person who has been using WP as a way to get books of the Stratechery subscription content (which is an awesome use case), but it's cool to see Venkatesh up there, given that I pinched his idea for the name of the product.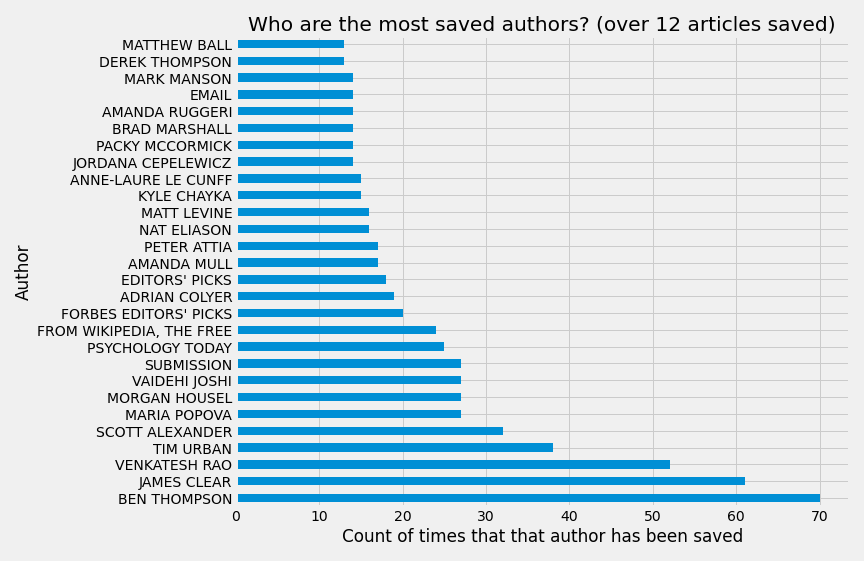 Names like SUBMISSION and EMAIL are sad because it's bad metadata from the publishers, so we'll never know who the real author is. (e.g. EMAIL is almost entirely the Marc Andreessen interview. I read it last night, it's good.)
There's a mega list of authors at the bottom of this page, most of them have links to their author page if you want to check them out.
Sources
There's a really noticeable break between the major publishers and the niche publishers (bad names, but they'll do). The niche section probably says something about the kind of people who read WP, but it's also worth remembering that those bars are all <100, and there have been something like ten thousand (9971) articles printed so far. Half (4379) of them come from the top 37 publishers. (The ones shown in the graph.) The rest (5592) come from 2433 other places!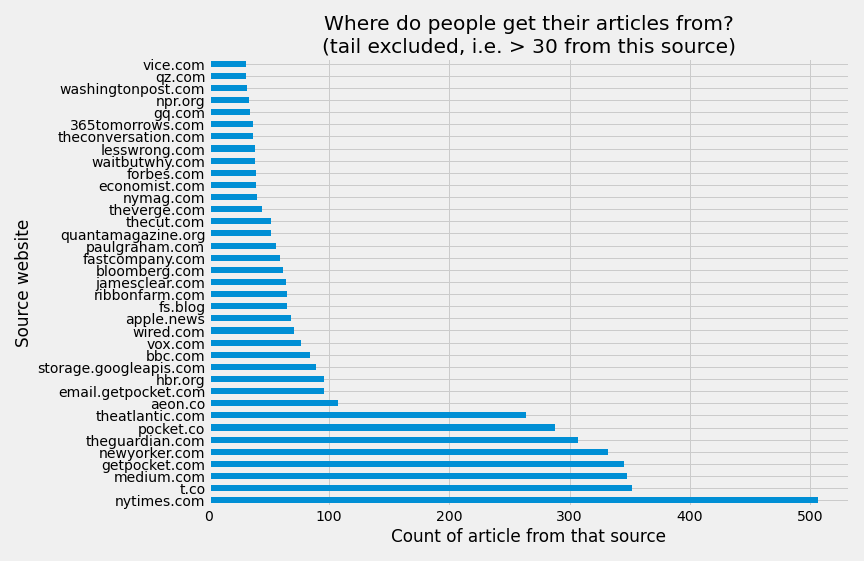 Pocket is in the top ten twice because of a really infuriating thing where they recommend an article, but then colonise its metadata. I think everyone would prefer they didn't do that.
Tags
Nbody has really gone hard with using tags to make custom editions yet (as far as I can tell), but people love the wpMustPrint and wpNoPrint tags.
Popular Articles
This is an all time chart, I've been thinking about doing a month by month leaderboard at some point.
17 saves:
11 saves:
9 saves:
8 saves:
7 saves:
6 saves:
5 saves:
4 saves:
3 saves:
Lots of Authors
SHANNON L. ALDER
LYZ LENZ
WWW.FACEBOOK.COM/CENTERFORACTIONANDCONTEMPLATION
JOE COHEN
THINK ABOUT WHAT
PHIL
FORBES EDITORS' PICKS
REGINE GALANTI
PRICE RELATIVE
BRUCE STERLING
/@VAIDEHIJOSHI
KEN MURRAY, M.D.
TWITTER
STEVEN TWEEDIE
SUDHIR SYAL
MARC ANDREESSEN
JON WHEATLEY
CONTRIBUTOR
HENRI WIJAYA
MICHAEL CHU
HOUMAN BAREKAT AND THEO GRAHAM-BROWN
SIBYLLE GRUNZE
HEATHER TURGEON
REEANA KEENEN
KATIE KOSMA
JOHN WOLFSON
PETER COY
STEPHEN LURIE
M
HELEN PIDD
BEN STEVERMAN
KYLE CHAYKA
HISKE VERSPRILLE
MASSIMO PIGLIUCCI
ABRAHM LUSTGARTEN
TIM URBAN
STEPHEN RODRICK
MARK MANSON
TAMAR STELLING
RICHARD BENSON
LYNN BERGER
JULIE SEDIVY
CHARLOTTE MCDONALD-GIBSON
CHARIS CHANG
MARIA POPOVA
HEATHER A. BUTLER
MICAELA MARINI HIGGS
MARJOLIJN VAN HEEMSTRA
CATHERINE MURNANE
RUTGER BREGMAN
AMANDA RUGGERI
MAARTJE LATERVEER
PARI DUKOVIC
WREN MCDONALD
MELANIE CURTIN
EMERGING TECHNOLOGY FROM THE ARXIV
ANETT GRANT
STEPHANIE VOZZA
LEARN
JOSH MONROE
LOG
OLIVER WIA
ANJA KRÜGER
PEOPLE.AI
AUSTIN CARR
JOHN BAEZ
JACOB FALKOVICH
GWERN BRANWEN
KAJ SOTALA
JON STICH
SHAWN M MOORE
ARTHUR BOYLSTON. A
KIM SALT
ALVARO DE MENARD
SO
MICHAEL KYTE
DORMIN
PHILLIP ALVELDA
ERIC RAVENSCRAFT
JEREMY HOWARD
RACHEL THOMAS
SYLVAIN GUGGER
BROOKE JARVIS
EEVEE
DAVID ROBSON
LENNART POETTERING
VENKATESH RAO
LUCY JONES
LIZ SZABO, KAISER HEALTH NEWS
LUKE
JEFFREY GOLDBERG
JULIA EVANS
BRET DEVEREAUX
JANELLE TAM
NIELSEN, MICHAEL
LUCY BRYSON
FUAT
SCOTT TURNER
DEFINITION
PRIYA KRISHNA
KATY STEINMETZ
TANIA CAÑAS
TONY BIRCH
MIKE ALBO
JOSH EELLS
SALLY DAVIES
KEVIN VAN VALKENBURG
DON VAN NATTA
DARCY FREY
NOAH SHACHTMAN
NATHANAEL TURNER
JOSHUA HAMMER
JON MOOALLEM
EZRA KLEIN
SETH ROSENFELD
CHRISTIAN GODBOUT
MICHAEL SCHICK
JULIETWALKER
GUEST AUTHOR
ANCIENT MESOPOTAMIANS
JULIAN GILBEY
DANIEL J BELL
MICHAEL A. SCHICK
DISTANCE LEARNING
DR PAUL EVANS
ANN CLEEVES
TONI FITZGERALD
BRITTNEY MORGAN
KIRSTEN WEIR
AMBER RAE
BRETT AND KATE MCKAY
BETHONIE BUTLER
GILBERT KING
LAUREN BRAVO
ELAMIN ABDELMAHMOUD
ELLY LEAVITT
ANASTASIA EDEL
TAMARA SHOPSIN
MICHAEL BLACKMON
TRAVIS CLARK
TESS MCCLURE
LAURA CUMMING
RYAN HOLIDAY
ALEX HUTCHINSON
CHRISTIAN JARRETT
GUARDIAN STAFF
SIGN
CATHERINE BUNI
JOAN DIDION
MARY KATHARINE TRAMONTANA
JEAN-PATRICK MANCHETTE. THE
TED GIOIA
GAME OF THRONES
ETHAN BROWN
JULIA ANGWIN
LAURA BANNISTER
TED CHIANG
TAYLOR LORENZ
BECCA ROTHFELD
RON
ADAM KUCHARSKI
MARK BERGEN
STEPHANIE K. BAER
TIMOTHY BRAUN
JOSIE THADDEUS-JOHNS
BRANDY ZADROZNY AND BEN COLLINS
ART SPIEGELMAN
NICOLE NGUYEN
LUPITA NYONG'O
DOUG CHAYKA
SU-HYUN LEE
RYAN LOWRY
PAM CLARK
BRET EASTON ELLIS
REUSE THIS
DAVID SEDARIS
METAFILTER
JACK SELF
POST
YUVAL NOAH HARARI
THE ECONOMIST
WILLIAM MORROW.
ENGLISH
MALLARY TENORE TARPLEY
WENDY LESSER. FARRAR
CHRIS MOROCCO
PHILIPPE RUAULT
CHRIS GASH
HENRY HITCHINGS
ANDREW CASE
CATHERINE NIXEY
ZARIA GORVETT
ASHER MOSES
FROM WIKIPEDIA, THE FREE
PSYCHOLOGY TODAY
KRISTIN WONG
KEITH COUSINS
JOEL GARFINKLE
JUDITH HUMPHREY
WES JUDD
PETER BREGMAN
OLIVER BURKEMAN
NATASA DJUKANOVIC
OLIVIA GOLDHILL
GUEST BLOGGER
ALAIN DE BOTTON
JOHN BOITNOTT
ALEX SOOJUNG-KIM PANG
TODD ROSE
ROBERT MACFARLANE
NOELLE FAULKNER
TIFFANIE WEN
GILES HARVEY
KYLE DENUCCIO
/@CHRISLOER
PAUL STAMATIOU
ERIK BERNHARDSSON
STEVEN D. LEVITT
REAL PYTHON
GARDINER HARRIS
JULIAN SHAPIRO
ANNIE ZHAO
SARAH MCBRIDE
ANDREW CONNER
GABOR ZOLD
LJXIE
LAURA KLEIN
ISSIE LAPOWSKY
THE AWL
FRANK, KURTIS
LAURA BOSCO
MARCUS MOSHER
CHARLOTTE ALTER
JÓI SIGURDSSON
JAMES CURRIER
JOSH KAUFMAN
JIMMY DALY
MONIQUE VILLA
KATRINA BROOKER
JULIANA CASALE
JUSTIN FOX
MOLLY OSWAKS
CONSTANTIN JOFFE
MARTIN
KA YOUNG LEE
ADMIN
THE OS VOYAGER
HILLARY HOFFOWER
BRENE BROWN
JESSELYN COOK
TIM DICKINSON
BRENT BARNHART
CHEYENNE ROUNDTREE
BELLINGCAT INVESTIGATION TEAM, THE BELLINGCAT INVESTIGATION TEAM IS AN AWARD WINNING GROUP OF VOLUNTE
SCAACHI KOUL
KATHERINE STEWART
HANNAH MILAN
MARY JORDAN
MEG ELISON
NINA ZIETMAN
ADDY BAIRD
SHAPE
ABBY VESOULIS
MATT WEBB
ALEXANDER
INTERVIEWS BY MICHAEL
CRAIG MOD
TIMOTHY SNYDER
KATIE J.M. BAKER
IAN MANUEL
IRINA ALEKSANDER
WILF DAVIES
ABBEY LOSSING
FOSTER KAMER
SIR JOSHUA REYNOLDS
DOMINO KIRKE
AS BYATT
HANNAH MARRIOTT
I'LL BE RIGHT BACK
MARK CONLAN
LI JIN
CHARLY WILDER
TAYLOR BLAU
JOHN O'SHEA
ADAM SANDOR
KENNETH CROSS
MICHAEL HOBBES
MASHABLE ENTERTAINMENT STAFF
JENNI SHARP
ALISON GREEN
ALLSTATE
RYAN BROOKS
DR JULIET MCGRATTAN
V (FORMERLY EVE ENSLER)
THOMAS KOULOPOULOS
SAM DUNNINGTON
DAISY FANCOURT
LAURA VANDERKAM
JOE BYERLY
SALLY KERRIGAN
CATHY O'NEIL
ALICE FLEERACKERS
TAMAR HASPEL
KATE BAGGALEY
LILA MACLELLAN
RAVEN ISHAK
STEVEN C. HAYES
DAVE BENNETT
BENJAMIN RAMM
MICHAEL KRANISH
HAMILTON NOLAN
ERIN WINICK
JEFFREY TUCKER
RACHEL COOKE
PRADEEP MUTALIK
LIQUN LUO
THOMAS HÜHN
SIRIN KALE
BRAD STULBERG
ADAM J. FEIN
BILL GATES
JIM DOWLING
EILENE ZIMMERMAN
MIRANDA PURVES
PETER HOLLEY
LEAH FESSLER
NINA SHIKALOFF
FRANCES WILSON
MOISES VELASQUEZ-MANOFF
WILL SELF
REBECCA DECZYNSKI
KATRIEN BOLLEN
MEN OF STEEL
MARTHA HENRIQUES
BEST
ROBERT NOGGLE
TYLER DURDEN
PAT MERTZ ESSWEIN
RICH FERNANDEZ
MICHAEL OCHS ARCHIVES
TIMOTHY J. JORGENSEN
STEPHEN MOSS
NEIL PASRICHA
JASPREET SINGH
AMY FLEMING
KARI MCMAHON
KEN ALLTUCKER
JAY WATSON
JIM DAVIES
ALEX PETRACHE
ISAAC CHOTINER
NILOFER MERCHANT
NIKOLAS LASKARIS
ANNIE LOWREY
JONATHAN KAY
MELINDA WENNER MOYER
GABRIELLE SAVOIE
MIMETIC DESIRE
THE DELIRIANS IS
MARGUERITE WARD | @FORWARDIST
JULIE BECK
CRAIG SILVERMAN
MIKE BROWN
JULIEN SIMON
ADAM LEVY
KAITLIN PITSKER
JASON DALEY
ALLEN GANNETT
WILLIAM EDWARDS
HOLLY WHITE
DAVID NIELD
RYAN HOWES, PHD
SARAH SLOAT
BRENDA BARBOSA
MANDY OAKLANDER
ROBERT KOLKER
MARIA KONNIKOVA
ALLISON SCHRAGER
DR. MARK MCLAUGHLIN
HIGHER AUTHORITIES
MAX ABELSON
JAKE NOVAK | @JAKEJAKENY
SHANE PARRISH
ADAM FALIQ
BILL HATHAWAY
ALEX DALENBERG
CHRISTIAN BOCK
KHE HY
CATHY SALIT
DAVID COX
CHIP HEATH
SUPER USER
ALEXANDRA MARQUEZ
ALEX MORRIS
ROXANE GAY
ADAM LIAW
ALEXANDRA COLLIER
HARRIET WALKER
MAUREEN O
MICHAEL MCALLISTER
ANNINA KOSKINEN
HUNTER FRENCH
TALIA LAVIN
BANTAM PRESS.
DAN NOSOWITZ
KK OTTESEN
LAURA CLARKE
CHARLES FINCH
ROBERT KUNZIG
KAROUN DEMIRJIAN
STEVEN MONACELLI
JONATHAN CUSTODIO
KATIE BARNES
BOOM CALIFORNIA
AMY GOLDSTEIN
MARIANELA D
UNDARK MAGAZINE
JESSICA DAILEY
MONTE REEL
BRYAN CAPLAN
DATE
AMANDA ASKELL
ALEXANDER ROSE
NICK DYRENFURTH
EMILY L. STEPHENS
CARL THEODOR DREYER
KHOI VINH
GREG SARGENT
VIET THANH NGUYEN
ADDITIONAL LANGUAGES
MATTHEW
LEON ARON
CHARLIE JANE ANDERS
SUBMITTABLE
ELIZABETH SEGRAN
ROC MORIN
FREDERICK DOUGLASS
BRAD RASSLER
AUTHOR BIOS
RAMON LLULL
ALEX MACCAW
HELEN MACDONALD
ROBERT LOERZEL
BRITNI DE
LYDIA NAKASHIMA DEGARROD
MARGARET ROACH
CAROLINE BUSTA
CAROLINE E. MAYER
DON BABWIN
GIDEON LICHFIELD
ANNALISA QUINN
ELAINE GLUSAC
ALEX MORSS
MAXWELL EVANS
STEPHEN MATUREN
HILLARY RICHARD
JENNIFER TAITZ
MORGAN GREENE
KEVIN CAREY
THE INTERCEPT
ILAN KELMAN
DAVID FARRIER
WUDAN YAN
RACHEL CUSK
EDMUND D. FOUNTAIN
RACHEL KAADZI GHANSAH
DAN KOIS
TIM HARFORD
TOM LAMONT
EMMA WARNOCK-PARKES
MATUSCHAK, ANDY
SHERRY TURKLE
ANNA HARRIS
SIOBHAN ROBERTS
MATT RIDLEY
WADE DAVIS
DEDICATED PAGE
ANISA PURBASARI HORTON
VIEW PREVIOUS
BRITTANY LEITNER
VIEW ORCID PROFILE
CURRENT AFFAIRS
REASON
CHRISTIAN ELLIOT
CHANDLER MARRS
WILLIAM DODSON
MARK.E.THOMAS
JAMIE DUCHARME
ROBIN MARANTZ HENIG
CHAMINDA JAYANETTI
JOSHUA FOER
MARIA-CLEOFÉ ZARAGOZÁ
ARIA BENDIX
ARIEL SANTOS-ALBORNA
MARK J. GRANT
LANCE ROBERTS
RAY DALIO
MICHAEL FITZSIMMONS
LYN ALDEN SCHWARTZER
GILGANNON, JAMES
SANDRINE CEURSTEMONT
REBECCA RENNER
AKE FAGERENG
YOTAM OTTOLENGHI
CARA GIAIMO
KATHERINE KORNEI
MATTHEW D. WHITE
PHILIP M. BARNES1,*,, LAURA M. WALLACE2,, DEMIAN M. SAFFER3,†,, REBECCA E. BELL4,, MICHAEL B. UNDERWOOD5
AMOS ZEEBERG
CAITY WEAVER
BECKY FERREIRA
GIDEON LEWIS-KRAUS
JEFF CORK
DANIEL J MCDONOUGH
BEN JANE
OPENURL
JESSICA LAU
THE HEART FOUNDATION
G EYSENBACH
MELANIE HAWKINS
GOOGLE SCHOLAR
KATHERINE FIRTH
UNIVERSITY HOSPITALS COVENTRY & WARWICKSHIRE NHS TRUST
CHRISTOPHER BERG
KATHRYN M. ANDERSON MA, SARAH LEISTER MA, RUTH DE REGO DNP
EDITORIAL COMMENT ICON
BECCA KRUKOWSKI
CORNEEL VANDELANOTTE
SANTIAGO DE ARAÚJO PIO, CAROLINA;BECKIE, THERESA M.;VARNFIELD, MARLIEN;SARRAFZADEGAN, NIZAL;BABU, AB
ARTICLE AS EPUB
DEPARTMENT OF NURSING, SCHOOL OF NURSING AND PARAMEDICAL, JAHROM UNIVERSITY OF MEDICAL SCIENCES, JAH
E. MACK
SALMA PATEL
ERIC J. BUENZ
EDWARD TUFTE
EXPLAIN
MARCEL DUIN.
JOHANNES GUTENBERG-UNIVERSITÄT MAINZ
ZOSIA ROSTOMIAN
JIM STOPPANI
SARA CHODOSH
EDDIE VAN HALEN
ZACHARY CROCKETT
PHILIP JAEKL
JEFF HADEN
JORDANA CEPELEWICZ
SIMRAN SETHI
MEGHAN SPLAWN
PETER HESS
GILLIAN BROCKELL
MICHELLE NIJHUIS
MELISSA JAMESON
KRISTIN IVERSEN
SARAH TODD
JAMES HAMBLIN
WALTER ISAACSON
TOM SIMONITE
GLOBAL COIN RESEARCH
PETER SINGER
AUTOTRANSLUCENCE
MORGAN HOUSEL
MEANINGNESS
CHRISTOF KOCH
JEREMY CHAN
ALLEN S. WEISS
LIGAYA MISHAN
MICHAEL MARSHALL
DAVID-WONG
AMY SUN
BARI WEISS
WONDRICH
AMBER BUTCHART
DAVID CHANG
ELIZABETH DICKINSON
DAVID CHAPMAN
ROBERT HACKETT
PACKY MCCORMICK
HYONHEE SHIN
ONUR CEYLAN
TOBY SHORIN
BILL GURLEY
NICK SOLARES
SERGIO DEMIAN LERNER
CLIVE THOMPSON
LUCAS BOON
ZEYI YANG
ANTOINNETTE SCHEULDERMAN
YASMINE ESSER
/@MICHAELDSIMMONS
GEOFFREY A. FOWLER
NAUTILUS
SJAAK HOOGKAMER
AEON
LOLLY DASKAL AND LOLLY DASKAL,, INC
ERIC J. WALLACE
RUBY ANDERSON
ADAM PIORE
SAMER KALAF
ENHANCED MEMORY AND
ELIZABETH HELLMUTH MARGULIS
PAUL FORD
<A HREF=
DAMIAN CARRINGTON ENVIRONMENT
SWEETCAKE ENSO
/@RAJATNEWATIA
ROBERTO STEFAN FOA
GEOFFREY MOORE
TONY SCHWARTZ
JAMES KUHT
262588213843476
M.R. O'CONNOR
SAMUEL ARBESMAN'S CABINET OF WONDERS
BENJAMIN HARDY, PH.D.
JOSEPH G. ALLEN
MARK THOMAS MILLER
PAUL GILSTER
KEVIN KELLY
CECILIA ANESI
JESSICA GLENZA IN NEW YORK
HARVARD HEALTH PUBLISHING
KAREN HAO
TONY WHITEHEAD
RICHARD SORABJI
KOEN STEEMERS
MARK EDMUNDSON
PAUL DOHERTY
THOMAS J. SUGRUE
CHRIS STULPIN
ALEXIA LIDAS
ERIN BLAKEMORE
MINDD FOUNDATION
MITCHELL JOACHIM
BRIAN RESNICK
AMBER BARLOW DAHL
DWIGHT D. EISENHOWER
JAMES CLEAR
GARY VAYNERCHUK
HAWKGRRRL
RICHARD FELONI
EMILY FREEMAN PINKSTON
DARRYL PINCKNEY
KAREN TONGSON
REBECCA BURNS
WILLIAM LANGEWIESCHE
RUTH TERRY
EDWARD LUCE
HELENA ANDREWS-DYER
FERRIS JABR
DANIEL DUANE
ERIC GRUNDHAUSER
JOSHUA SPECHT
KEVIN HARTNETT
ZACH DORFMAN
EMILY TEMPLE
ALBERT SAMAHA
RESULTS
MERLIN SHELDRAKE
NATALIE ZARRELLI
MARK MACNAMARA
BENJAMIN LORR
WILL DOUGLAS HEAVEN
DANIEL SUDARSKY
EMILY SOHN
REDAKTION
VON FRANZISKA SETARE KOOHESTANI
PROTOKOLL VON NADJA SCHLÜTER UND CHARLOTTE HAUNHORST
SID MEIER
BEARBEITEN
GIORGIA GUGLIELMI
SÜDDEUTSCHE.DE GMBH, MUNICH, GERMANY
RODNEY BROOKS
BRETT WILLIAMS
TIM O
ELIE DOLGIN
NICHOLAS FANDOS, 
ALZHEIMER'S RESEARCH UK
GAIL AXELROD
DR. JASON FUNG
MICHAEL WOLF
CODE FOR AMERICA
EM LAZER-WALKER
NAT ELIASON
MOLLY YOUNG
ZAPIER
ANTONIO REGALADO
CUSTOM POST TYPE
BARACK OBAMA
KEVIN HALE
MARK SAVAGE
JANE CADZOW
BARBARA BRYSON
EDSGER W. DIJKSTRA
BARRYDINEEN
EDWARDS PARK
GEOFF GRAHAM
JUSTIN LING
/@DYLSTECK
CAROLINE CRIADO-PEREZ
DAVID PIERCE
MAGGIE JONES
BOHUMÍR ZÁMEČNÍK
AUTHOR: DIRK H. BREIDING
SCOTT GALLOWAY
NATHAN MYHRVOLD
AVI RAPPOPORT
DEAN SUDARSKY
BEING INEFFICIENT
ELIZABETH GREEN
MICHAEL FINKEL
KEREN BLANKFELD
RYAN SINGER
JESSICA BATKE
GREGORY SADLER
ALEXEY GUZEY
RACHEL E GROSS
LILI ZARZYCKI
MATT BLAZE
ALEX HUDSON
PAUL W. B. ATKINS
HIROKO YABUKI
SHEILA MARIKAR
SARAH DITUM
TUUR GHYS
SARAH FRIER
CELINE NGUYEN
YNGVE HOISETH
GRACEYSWER
CAITLIN C. GILLESPIE
MARK THOMPSON
MEGHAN DAUM
SIMON HATTENSTONE
VADIM MAKEEV
JOSHUA DRUMMOND
NICK HEER
N.B.
CALLA WAHLQUIST
ANNE APPLEBAUM,
LAURA BATES
JON RONSON
ANASTASIIA FEDOROVA, OLIE AVSTREYH
ANDREA VALENTINO
ALLAN RICHARZ
NANCY KLINE
MILES BRYAN
TOM HOLLAND
CHARLIE SHACKLETON
CHIMAMANDA NGOZI ADICHIE
THE IMAGINATION
DEVIN MURPHY
ALICE HINES
M.H.
PADRAIG MORAN. PRODUCED
DAVID MCNEILL
LUKE LEITCH
FIONA GOLFAR
DESIGN BLUEPRINT SERIES
BRYAN EISENBERG
NICHOLAS SONNENBERG
JACOB @ A MEDIA OPERATOR
ROBERT CILADINI
OLIVIA SEITZ
MARIO
EDUARDS SIZOVS
SASCHA LEHMANN
SAM DEBRULE
ALEX KRACOV
PETE FLINT
COURTLAND ALLEN
RUSTIN NETHERCOTT
MEAGAN FLYNN
EWEN CALLAWAY
JAMES SOMERS
JACK DAVIES
RANDY DOTINGA
DANA MILBANK
ERIQ GARDNER
ASTRONAUTICS
EMMA MARRIS
AATISH BHATIA
BIANCA NOGRADY
ROBERTEVANS
THE SECRET AERODYNAMICIST
MARK VANHOENACKER
TIMOTHY BELLA
NEW BELGIUM
BELLE BETH COOPER
KIMBERLY M. S.
SIMON SINGH
JEFF ATWOOD
ROSLAN KHASAWNEH
JASON ROELOFS
RACHEL M. GODUN
NEIL SAINSBURY
JON BELTRAN
VIVEK WADHWA
LAURA ADAMCZYK
SAMANTHA NELSON
OCCRP AND PARTNERS
ALEX WELLERSTEIN
THEA GLASSMAN
CLAIRE BOSTON
STATE LAWS
JOHN BESANT
JOHN GRUBER
JON GERTNER
THE MAD FERMENTATIONIST
CHRISTINE MUHLKE
NEAL GABLER
ANDREW OSBORNE
GORDON S. WOOD
MARGARITA TARTAKOVSKY
ROBERT E. PIERRE
ALEX BILMES
CHIP BROWN
EVGENY MOROZOV
JAMES F. KASTING
GRACE ELKUS
JEREMY ANDERBERG
DORIE CLARK
FRANCESCA STREET
KIM SCOTT
CHELSEA WALD
MARTIN REES
WANDA THIBODEAUX
CELESTE NG
DAVID KOHN
ERIN CLARKE
TANYA BASU
KATE TORGOVNICK MAY
MICHELLE CHENG
ADELE PETERS
DAN BAUM
ANGELA SERRATORE
JORY MACKAY
REBECCA LAWTON
MEGAN MARPLES
MARTIN PUCHNER
PAMELA WIEGARTZ
THOMAS NAIL
JOE LEMIRE
CONTAINER SOLUTIONS
OLIVIA FIELDS
GILAD PELEG
JAMIE DOBSON
PROF. TIMOTHY NOAKES
DANIELA BLEI
ARVID KAHL
ANDREAS RAMOS, ANDREAS.COM
CLICK TO TWEET
EVA HAMRUD, METAFACT
RICK
DANIEL COMPTON
ELIZABETH ALEXANDER
MARISSA DAVIS
MARILYN NELSON
ISAAC ASIMOVSPECIAL
BESS LOVEJOY
RICHARD OVENDEN
EVA HOLLAND
LONELY PLANET
ALASTAIR CAMPBELL
TAL DOTAN BEN-SOUSSAN
MELISSA HOGENBOOM
ZOE SCHLANGER
CLAIRE MALDARELLI
IVAR FAHSING
DANIEL LOXTON
ROLAND BETANCOURT
ANDREW SOLOMON
SIMRAN JEET SINGH
STEVEN NOVELLA
EMILIE LE BEAU LUCCHESI
SCOTT GAVURA
SARAH ZHANG
DAVID BROWN
DANIEL
KIT CHELLEL
MIKE SOLANA
TASOS KATOPODIS
LEARNING THE BASICS
JULIAN LEHR
STOCKSNAP
JAKOB NIELSEN
AMAZON STAFF
PROFESSOR GARY GROBMAN
BOUNDARY
NASSIM TALEB.
BRENDAN GREGG
BRANDON WEAVER
GARETH DWYER
MANUEL MATUZOVIC.
ANY
JEFF BEZOS
FRANCESCO CESARINI
TOM BARTEL
IVAN KREILKAMP
BEN HAGEMANN
ALANA HICKS
ROSS DICKIE
JOSH COHEN
BRIDIE JABOUR
BILLBOARD STAFF
SABRINA IMBLER
JAMES GALLAGHER
CHRIS BARANIUK
PRESIDENT FRANKLIN ROOSEVELT
MARCOS BRINDICCI
KNOWLEDGE THREATENED
DANA VELDEN
GEOPAETHAS
VASILEIOS VASILEIOU
CLAIRE CAMERON
ELLEN CASTELOW
CHRISTINA DESMARAIS
ROBERT HART
ROB VERGER
TAMMANA BEGUM
SARAH MCDERMOTT
JESSICA BRAIN
CHELSEA CATLETT
ANDREW FAZEKAS
TERRY STEWART
ANNE HELEN PETERSEN
H. ALLEN ORR
KEVIN SIEFF
JAMES MEEK
LAUREN DAVIS
JACOB MIKANOWSKI
JACOB PAGANO
ED REGIS
DAVID M. PERRY
TEXT BY ISMA'IL
KATIE PAVID
MARY KAY MCBRAYER
PHILIP BALL
TIM MAUGHAN
MARGARET RUTHERFORD
LINDA RODRIGUEZ MCROBBIE
EMMA BETUEL
DAVID SHUKMAN
SINEAD GARVAN
NATASHA GEILING
VIVIENNE NUNIS
NEWEST, NEWEST
LANGUAGE FAMILIES
JOEL SPOLSKY
PAUL BUCHHEIT
EAGER
БЕСЕДОВАЛ МАКСИМ СОЛОПОВ
WERNER VOGELS
JEREMY KAHN
TOM PRESTON-WERNER
JASON FITZPATRICK
ANDREW WULF
XDHZ
GEORGE MACK
CRISTINA SPANÒ
MEANINGNESS AND TIME
SUSAN SHAIN
LISA CROCCO
HYPER-PERSONALIZATION
SUSAN YOUNG
CARLO ROVELLI. IN
DAVE FOWLER
HELGA NOWOTNY
RHIANNON LUCY COSSLETT AND , MICHELE HANSON
THE SOCIETY PAGES
MARKO SARIC
JOE LONSDALE
JON SCHUPPE
RANDY CONNOLLY
JASON D. ROWLEY
ALICE WOLF
PATRICK BURKE
JESSE ELLIOTT
MAYA WEI-HAAS
LYDIA CASTON
CLARISSA DAWES
DEBORAH JONES
CONNIE SMITH
JILL LANGLOIS
KIMBERLY CHRISMAN-CAMPBELL
SARAH PRAGER
RAVEN SMITH
SCOTT WALLACE
STEVIE TRUJILLO
BRYAN SCHATZ
STUART HERITAGE
STEPHANIE PEARSON
GENA STEFFENS
DAN SCHWARTZ
ED LEVY
ELC
PAT MARTIN
REBECCA DESNOS
MICHAELA TRIMBLE
BECKY LITTLE
ANOTHER
CYNTHIA GORNEY
KENNEDY WARNE
CHARU SURI
ERIC CAVALCANTI, THE CONVERSATION
MARTHA S. JONES
ANNIE ROTH
ADRIENNE BERARD
MPI
LAURA GOMEZ
CONNIE R. SMITH
SUE GORTON
DANIEL CENICEROS
JESSE ELLIOT
LAUREN MITCHELL VOLKER
LEE CAROSELLI-BARNES
ASHLEY THURN
MARIAME KABA
NICOLA DAVIS
MICHAEL SAFI
STEVE ROSE
STEP
TIM LOGAN
ADRIENNE MATEI
MADDY SAVAGE
A-J ARONSTEIN
EMMA PEER
SHIFRAH COMBITHS
SCOTT LUDLAM
ERIKA HAYASAKI
ROBERT SULLIVAN
KELLY DEVOS
MICHAEL SNYDER
AIMEE FARRELL
JENNY ANDERSON
BRIAN GALLAGHER
KARA NEWMAN
MAGGIE SMITH
KAREN HELLER
JOHN HECHINGER
DIANE HARRIS
DROR POLEG
LUZ LAZO
ALEX TEPLITZKY
LINDA POON
DR ELEANOR JANEGA
RICHARD FLORIDA
JEFF MAYSH
DANIELLE CAMPOAMOR
DAVID HOFFELD
JUDAH POLLACK
SARA MCCORD
BEN WINCK
AYTEKIN TANK
JACOB KING
JOHN COOK
HARRISON PULLINGER
MICHAEL GROTHAUS
SHERRYN GROCH
FREDERIK IMBO
CAITLIN MACLEOD
JORY MCKAY
ENTREPRENEUR
JASON WINGARD
AMRE KLIMCHAK
SIMMI AUJLA
ZACHARY SMALL
VANESSA WASCHE
MICHAEL MORGAN
PAUL SALOPEK
SHANE WRIGHT
THE HERALD'S VIEW
NEELA JANAKIRAMANAN
LISA COX
IN
MICHAEL STEINBERGER
STEPPED IN
SAM BORDEN
JULIE ZINK
RICHARD M. LEVINE
ASHLEE VANCE
HAYDEN FIELD
MIKE SECCOMBE
ARAM ROSTON
AMBROSE BIERCE
CARRIE ARNOLD
AURORA ALMENDRAL
DAVID MURRAY
SHAWN STEVENSON
CHARLIE CAMPBELL
TANYA MECK
DANIEL TERDIMAN
LINDSAY TIGAR
PT STAFF
NEESA SUNAR
SARAH MALIK
RIVERHEAD BOOKS. HER
SEIJA RANKIN
ARTHUR KRYSTAL
ELIZABETH ELLEN
LISA LEONG
CHRIS STOKEL-WALKER
MARY FALLON
ELINOR CARUCCI
OLIVIA LAING
ELIZABETH WEINBERG
STEPHANIE FORWARD
E.E.CONSTANCE JONES
STEPHEN PHAM
AMY HUNGERFORD
ROB DELANEY
TOM CHO
READ THE
JACK CHENG
ADRIENNE MURRAY
ITSELF
MARTIN TOURNOIJ
STEVEN MUHLBERGER
MATTHEW TURK
MICHAEL WALKER
STEPHEN GALLOWAY
GEORGE HOSU
SHOMA ABHYANKAR
L1X
DYNO MIGHT
BUT WHAT FOR?
ASHWIN KACHHARA
PER LIDÉN
STEPAN PARUNASHVILI
KATE TEMKIN
ALISON GREGOR
LINDA GEDDES
QUEEN MARY
BRECK WALKER
INDIVIDUAL FACULTY MEMBER
CORTEX FUTURA
ARIEL BOGLE
SARAH MILLER
SARAH BLESENER
ANNIE FLANAGAN
DOUG BIEREND
ALEC NIEDENTHAL
SAM CANNON
DIGG
ELAINE VITONE
ED ROBERSON
EDITOR JAMES WHITBROOK
LAURENCE BUTET-ROCHE
GEOFF MANAUGH
AVREL SEALE
KURT KOHLSTEDT
MAX HAYWARD
BRITTANY SHOOT IN SAN FRANCISCO
GEOFFREY WEST
JO HARPER
BRIAN ENO
PARTIZANFILM & VÝCHODNÉ POBREŽIE
DAVID BARNETT
HARRIET HARRISS
LISA ALLARDICE
ELI CHAIT
CATHAL J NOLAN
SIRI HOLSTAD JOHANNESSEN
THE CIVIL EATS
KATHRINE ANDERSON
JEFF BEER
DANIELLE SCRUGGS
TOM LOBIANCO, DAVE LEVINTHAL
SAM MILLER
NEAL HERBERT
BLAKE MCSHANE
DANETTE CHAVEZ
RADLEY BALKO
CHRISTINE GROSS-LOH
THE NEW YORK
DOUG LESMERISES
HEATHER HADDON
ROB LEDONNE
BRANDY ZADROZNY
BRYAN STEVENSON
EDWARD J. LOPEZ
STEPHEN S. HALL
LAWRENCE MOWER
CHRISTOPHER BLACKWELL
FERNANDO RIVAS
JEFF OKUDAH
SHAWN DONNAN
DAVID TERESHCHUK
D. ZACK GARZA
ESME E DEPREZ
JONATHAN VANDERHAGEN
OLIVIA MESSER
AMY MCKEEVER
SHARE THIS
LUCAS REILLY
LYDIA MULVANY
DAVID BURKUS
THOMAS FLOYD
NATEDEMARS
MICHAEL CHABON,FLICKR/FRENCHSTER
ROY SCRANTON
MEGAN O
JESSICA WOLF
CASEY SCHWARTZ
RUTH FRANKLIN
KATHERINE MILLER
CONNIE WILLIS
AMITAV GHOSH
OLIVER MORTON
FREDRIK ALBRITTON JONSSON
HARRIET SHERWOOD
CARA ELLISON
SARAH LEWIS-HAMMOND
TOBIAS JONES
VICTORIA SCHWAB
MARK O
KERRY MANDERS
JENNY LAU
LYDIA MILLET
NINA MINGYA POWLES
ANNA MATHESON
KATE AURTHUR
VANESSA BERRY
RICK LIEBLING
URSULA K. LE
EDITOR'S CHOICE
GARRETT GROVE
AMAL EL-MOHTAR
TIM BOOMER
COLIN SALMON
MAUREEN O'CONNOR
DAVID ABRAM
FRANK CHIMERO
FERNANDA CASTRO
/@PETER.HEAD
LAUREN ITO
CHRISTOPHER KROHN
MIKE FOLEY
PHILIP OLTERMANN AND LOIS HOYAL
MATT WADE, VINCE RUGARI
PHIL MCCAUSLAND
LYNETTE MORGAN
GUARDIAN
EPHRAT LIVNI
MARYA HANNUN
DIANA KELLY
BRYAN LUFKIN
HANNAH DEVLIN SCIENCE
NICOLE PAJER
KENNETH PARTRIDGE
LARS SUDMANN
JOEL SNAPE
RACHEL NUWER
JOOBIN BEKHRAD
DANIEL RENNIE
SVEN BECKERT
JESSICA LEIGH HESTER
CHRIS CIOLLI
ISABEL SLONE
SCOTT YOUNG
JILL LAWSON
ROB ENSLIN
~AJROACH42.COM
ARDALIS
PETER ROELANTS
LISBETH HEILESEN
CSCS.AICS.LGCS.PLSTAT
BEN THOMPSON
OF
AN UNSIGNED EDITORIAL
WALL STREET JOURNAL
SEVEN BOOKS
THE INTERFACE
ED PRIDEAUX
ANDREW SAUNDERS
EMILY REYNOLDS. WHILE
ZULEKHA NATHOO
PAUL ROTHMAN
ISAAC FITZGERALD
VIRGINIA SOLE-SMITH
CARLOS DE LA GUARDIA
THE WHITE COAT INVESTOR
NORM
SHANNON HALL
MICHAEL PIERCY
ANDREA LAURION
DR LAURIE SANTOS
LISA FELDMAN BARRETT
ELIZABETH PRESTON
SHANNON STIRONE
CLIFFORD COLBY
JR RAPHAEL
SIGNE DEAN
DAMON BROWN
JEFF GRABMEIER
MATTHIAS VAN HUL
KELLY TYKO
ANN ALTHOUSE
CRAIG TRUDELL
DALE SMITH
SANDEE LAMOTTE
MATT KLINGLER
ANNIE KLEIMAN
STUART THOMPSON
'THE EZRA KLEIN SHOW'
RICH HICKEY
NORTHWESTERN UNIVERSITY
MIKE CERRE
JOBY WARRICK
MAX-O-MATIC
MATTHEW DESMOND
JUSTIN KREBS
DANIEL BERGNER
DAVID REICH
ALEX GLADSTEIN
JUSTIN E. H. SMITH
SATISFYING
SLAVOJ
KAREN RUSSELL
NEWS
BREXIT
JACKIE STEWART
DANIEL BOFFEY IN BRUSSELS
LAURA TRETHEWEY
LISA SONG
SOPHIE HEAWOOD
RODRIGO CAPOTE
GRAEME THOMSON
RICHARD EYRE, ANNE-MARIE DUFF, KEN STOTT AND HUGH HUDSON
MATTHA BUSBY AND
HEATHER STEWART
LOUIS THEROUX
PAY GAP
JONATHAN WATTS
JOSHI HERRMANN
MEGHA MOHAN
SANDRA LAVILLE
MARTIN CHULOV MIDDLE EAST
INTERVIEWS BY
MICHAEL SAFI,
DEBORAH LINTON
JOHN BINNS
REBECCA GALE
DR. CHANDRA BHANSALI_HITENDRA PATIL
RESEARCH
MELANIE NEWMAN
LILY HAY NEWMAN
KELLY MCGONIGAL.
SLACK
ANDY TAY
PRISCILLA CLAMAN
ERIK SCHATZKER
ASHLEY ABRAMSON
ELLE HUNT
TIM FOLGER
JUSTIN WOLFERS
KATY LEE
KEN MURRAY
TOM PARKER BOWLES
NOLAN PHILLIPS
MARISA G FRANCO
LAURENCE EDMONDSON
MIKE MCINTIRE
DOUGLAS ENGELBART
OTTO STORCH
/@JRIEGELS
BLACK QUANTUM FUTURISM
BRUCE DAISLEY
TFL
NICOLA TWILLEY
JESSICA KNOLL
JASON FEIFER
TODD MARTENS
CRAIG GUSTAFSON
TWEET
MARELLA CARACCIOLO CHIA
ALEX WILLIAMS
MELKORKA LICEA
EMMA PATTEE
KRISTEN V BROWN
BLAKE ANDREWS
T0ST
STEP GUIDE
DANNY CLARK
CHRIS MADSON
TONY ROBBINS
CHRISTOPHER H. GUITERMAN
ERIC BROWN
ANDY MATUSCHAK
AUDREY NOBLE
EMMA CHRISTENSEN
LAURIE MARHOEFER
GRAHAM AVERILL
RICK MARSHALL
BRIGIT KATZ
JAY SERAFINO
DAVID EBERSHOFF
CHRISTIAN L. WRIGHT
HERE
DYLAN TAYLOR-LEHMAN
CHRISTIAN BUSCH
SCOTT BARRY KAUFMAN
KASTALIA MEDRANO
DAN SOLOMON
JOSEPH STROMBERG
PHOTOGRAPHS BY THE NEW YORK TIMES
ALLISON ARIEFF
BERNARDO ZACKA
DALE BERNING SAWA
GIACOMO GAMBINERI
KELLY DINARDO
CATHERINE SLESSOR
JORGE OTERO-PAILOS
CHRIS MARCHIE
SVEN SCHEUERMEIER
SARAH GIBBENS
NATASHA FROST
LORRAINE BOISSONEAULT
AMY MAOZ
CLIFTON MARK
TANG MING TUNG
ALINA DIZIK
JAMES NESTOR
LOIZOS HERACLEOUS
ANNA SWARTWOOD HOUSE
ARIANNE COHEN
GABRIELLE JACKSON
DAVID A. BELL
JOHN DICKIE
JESSE SZEWCZYK
JAY RUBEN DAYRIT
EMILY CADMAN
ANNE EWBANK
JACKIE ASHTON
JARED M. SPOOL
JESSICA ELGOT AND , NICOLA DAVIS
DINA BASS
MELANIE AULD
NHS ENGLAND
UCL
GENIUS RECIPES
SAM WONG
REQUEST
MIKE MAY
JAMIEOLIVER.COM
JASON KUGELMAN
ZAFER ÖZTAŞ
N. FERRARA
KAT BOYTSOVA
JONATHAN RINGEN
SIGRID ADRIAENSSENS
NIGELLA
LUCY A. CULLIFORD
THE COLLEGE OF OPTOMETRISTS
THE ROYAL COLLEGE OF OPTHALMOLOGISTS
ROB BAEDEKER
BEAU LOTTO
ANNA JONES
ALEX HESS
RUSH JAGOE
MEGAN PHELPS-ROPER
EMILIA PALAVEEVA
EMILY RAND
BRIAN BARTH
ROBBIE ABED
DAVID A. KENNEDY
OLIVIA CARVILLE
KEITH STUART
ALEXANDER SMITH AND CARLO ANGERER
EAMONN FORDE
OWEN GUO
KOEN HAUSER.
PIERRE LEMIEUX
THE WESTON A
MATTHEW BALL
BONNIE MILLS
JAVIN PAUL
LAUREN OYLER
READ MORE
WEB SMITH
DAN SHIPPER
LEEHAMCOEU
MELISSA SMITH
GUY LAWSON
MARK WILSON
ZOË BEERY
BRIAN FAGAN
PAUL ROGERS
ANNALISA MERELLI
SHOSHI PARKS
ANN-DERRICK GAILLOT
MEGAN SCUDELLARI
ALEKSANDRA BLISZCZYK
ANDEE LOVE
RIAN MALAN
PAUL ANTHONY JONES
DEREK LUSK
DAVID PROLOGO
EVAN NICOLE BROWN
VINNIE ROTONDARO
KAREN FRANCES ENG
WILLIAM DAVIES
EDITORIAL BOARD
CHRIS LOPER
DANIEL BARBARISI
MATTO MILDENBERGER
ADAM TOOZE
MOLLY BALL
LAURA SPINNEY
GREG MILLER
DAVID KUSHNER
MARIA BOULDING
KATIE WARREN
DRS. LES
PROVIDENCE
CHARLOTTE HIGGINS
ROY HORNSBY
DAVID YAFFE
BENJAMIN LEE
ANDREW CLEMENTS
LORENA ALLAM AND , NICK EVERSHED
DEBORAH SOLOMON
JOE MORAN
NORMAL PEOPLE
DAN HANCOX
ERICA JEAL
ROWAN MOORE
ABBIE GREAVES
ADRIAN SEARLE
DOUGLAS BRINKLEY
JIM FARBER
CLAIRE TOMALIN
JONATHAN JONES
AKRAM AYLISLI
ELISABETH EGAN
RADHIKA JONES
NOOR QASIM
NATE BERG
JIM RUTENBERG
DIANE BRAND
WORD ON FIRE
ROBERT STEUTEVILLE
JONTY LEIBOWITZ
ANGUS THOMPSON
MICHAEL SEGAL
TILL LAUER
MAX DE HALDEVANG
TEGAB
JOSEPH BERNSTEIN
NICHMAR@MAIL.UBC.CA
GEORGE MONBIOT
CHRIS TITTLE
THE REVIEW
PAUL KARP
TIM VYNER
KATHERINE DAVIS-YOUNG
RACHEL GRIEVE
NAOMI STEAD
PAUL SIMON
SAMANTHA CLEAVER
KJ DELL
BILLY PENN
CHRISTIAN ROBINSON
JESSICA NUTIK ZITTER
KEVIN MCCORRY
JANET LANSBURY
JEANNE THEOHARIS
DAN HURLEY
SIMONE MAREAN
RABBI SHARON BROUS
HEATHER LAMBIE
JIM STOTEN
JAIME GREEN
HEIDI SCHILLINGER
DAVID MARCHESE
DIANNA DOUGLAS
RAMPAGE
DAVID CAIN.
SHARE
EMAIL
RALPH ELLISON
JOHN EDGAR WIDEMAN
ERICA CHENOWETH
CERI JACKSON
ELLEN ADAMS
ESTHER ADDLEY
HARRYTUTTLE
JONATHAN GRIFFIN
NATHANIEL RICH
TARA ISABELLA BURTON
SAM LANGFORD
RYAN PARKER
THALIA ANTHONY AND STEPHEN GRAY
ESTHER ANATOLITIS
EULA BISS
NET-A-PORTER
PEGGY DREXLER
GINA FAIRLEY
LIZZIE PRESSER
CHERINE FAHD
GABRIELLE SMITH
KATIE CUNNINGHAM
LUCY TOMPKINS
AMY CHUA
DAVID FOSTER WALLACE
ADRIENNE LAFRANCE
TIM CAHILL
TEVI TROY
JOEL GOLBY
O. DAG
HAMISH MCKENZIE
FOLLOW
YOUR OWN UNIQUE
GENEVIEVE KO
BRIANNA HOLT
KATE ZAMBRENO
MICHAEL M. SANTIAGO
JULIE BENBASSAT
RYAN AVENT
LISE OLSEN
GAY LUCE
CURTIS YARVIN
EKATERINA MALIEVSKAIA
LINDSAY BROWNELL
JARED COHEN
TIMOTHY C. WINEGARD
JACK HITT
PAUL DOBRASZCZYK
BILL MCKIBBEN
ETHAN TREX
ELLEN FURLONG
ALIX STRAUSS
SYLVIA SABES
TRACY MA
SCOTT B. WEINGART
RACHEL POSER
SAMANTH SUBRAMANIAN
CLARA LONG
JEFFREY MILLER
BONNIE TSUI
JOEL STEIN
TNLC
ALEC SOTH
PAGAN KENNEDY
ALLISON POHLE
JESSICA EASTO
BARRY SCHWARTZ
JACOB SOLL
LEAH SOTTILE
EDWARD ROBINSON
LAUREN COLEMAN-LOCHNER
JORDAN MICHELMAN
DAMON LINKER
ALEXANDER COGGIN
MARION RENAULT
DEVORAH LEV-TOV
JAMIE LAUREN KEILES
DREW LITOWITZ
BAXTER HOLMES
ALICE FULWOOD
ELLEN BARRY
MARY LOTZ
PHILIP SOPHER
MARK SHAPIRO
ANTOINE CORBINEAU
ALAN LOFFT
A.O. SCOTT
SIMON BRAMBLE
GWEN MORAN
TIM SADLER
ALI EL-ZEIN
DIFFERENT
DUNCAN HAUGHEY
WESLEY LOWERY
GOLDEN COSMOS
ANNALIES WINNY
AARON HIRSH
CHARLES HOLMES
REPEATING THE DUBIOUS
PAUL LA COUR
ERIN BERGER
BETH RODDEN
DERRICK SCHULTZ
LAUREL SCHWULST
THE FIRE
STEPHEN DANIELLS
NEETA LAL
ANN ARMBRECHT
CHRISTINE RO
PREVIOUS
ERIKA GALENTIN
ERIC NEUMAYER
DIMITRI SELIBAS
LILLY SMITH
EDITORIAL TEAM
CASEY MEANS
MANDI MOSHAY
CLAIRE CARROLL.
FORREST BRAZEAL
YIREN LU
LAVERL Z WILLIAMSON
DRIVING ACQUISITION
JIAYUE LI
EMINE SANER
CLAUDIA DREIFUS
EDWARD MENDELSON
STEVE RYFLE
ROBERT SAPOLSKY
KEVIN BERGER
JAVIER JAÉN
DIMITRY KOCHENOV
ANNA PARINI
LEONARDO SANTAMARIA
KURT GRAY
THE ACCUMULATOR
LAURA SANTHANAM
KARA SPRINGER
KRISTEN ROGERS
FILIPPO MENCZER
AIMEE BARNES
JACQUELINE KEHOE
ALLISON HORST
MICHAEL A. CUSUMANO
DAVID MCGUIRE
CARTO
PAIGE MCCLANAHAN
ARUNDHATI ROY
AMY PENISTON
NANCY COLIER
SARAH GILMAN
KARYN LACY
ELLEN FEINGOLD
BECCA DZOMBAK
SEAN MCCABE
NSIKAN AKPAN
JULIA BELLUZ
WRITE ABOUT DESIGN
JOHN BRILEY
DAN GARISTO
LAUREN KEITH
OLGA KHAZAN
HARDIK PANDYA
AKHIL
PERSONALITY
THOMSON REUTERS
ARUN SAI KRISHNAN
MICHAEL LYNCH
MICHAEL MAAR
BLAIR BRAVERMAN
DENYING
CLAIRE BUSHEY
SVEN SCHNIEDERS.
ARMAND D
KAJ
WARD ANDREWS
SANKHAYAN GHOSH
SAYANTAN GHOSH
SECTION
MIKE MCCAHILL
JOE CUMELLO
JAMES
NITHYA SUBRAMANIAN
ANGUS FLETCHER
DOING ACTIVITIES
MEGHAN, THE DUCHESS OF SUSSEX
CHARLIE MUNGER
NORMCORE TECH
KENYA HARA
SLAVA AKHMECHET
MICHAEL XAPIRO ☣️☀️?
GRUNTHUS GRUMPUS
DAN NA
PAOLA ROSA-AQUINO
MEGAN MICHELSON
CELLA WRIGHT
TREVOR HUGHES
NICKY PHILLIPS
LUCAS MATNEY
SARAH BUTLER AND , MILES BRIGNALL
NICOLA MCDOUGALL
BRANKO MILETIC
JOE LINCOLN
JAMES CLAYTON
CLOVER HOPE
K.C. COLE
DOMINIC HANDY
JOHN HENNING SCHUMANN
MICHAEL KEEN
DAN KNUTSON
ALEX DANCO | TWO TRUTHS AND A TAKE
KATHERINE ROWLAND
SEMIL SHAH
PAN MACMILLAN
KIRA-ANNE PELICAN
RICHARD MARSHALL
JON
TALIA GOLDBERG
DAVID MERKEL
JOSH DAVIS, STEVE SAPRA, JERRY TSAI, SASHA TALCOTT
THOMAS MAYER
DIANE BRADY
ANDERS SANDBERG
FANKANG MENG
JOSH DAVIS, ASHISH TIWARI, BRAD GUYNN
OLE PETERS
KEREM KARAARSLAN
TO
RASHA SHRAIM
BRENTIN MOCK
WIRECUTTER STAFF
JOSHUA SOKOL
SARAH GOFF-DUPONT
KATHERINE REYNOLDS LEWIS
PHIL MORGAN
STURT MANNING
DANIEL BARRON
DARYL CHEN
DERRICK O'KEEFE
DICK TALENS
TOMAS CHAMORRO-PREMUZIC
RANDI BERGMAN
SHAUN WALKER
ERIK MALINOWSKI
ADAM TURNER
SARAH HOLDER
MARTIN ROBINSON
ELENA LACEY
JONATHAN GUYER
ENTERTAINMENT WEEKLY
CARL MILLER
JANE ZHANG
SARAH VIREN
JOE KLEIN
LESLEY GOLDBERG
LÜ PIN
ADRIAN CHEN
RICHARD A. CHANCE
AISHWARYA KUMAR
PATRICK SHANLEY
BLAKE DODGE
RUTH READER
DOUG BOCK CLARK
ALICE KOGAN
BENEDICT CAREY
BLAKE DODGE, ÁINE CAIN
JOE GRASSO
MICHAEL ROBERTS
NICHOLAS J. R. WHITE
LINA ZELDOVICH
CLAIRE SAFFITZ
JUDY MELINEK MD
EILEEN GUO
WITHOUT
AARON BASTANI
NATASHA MASCARENHAS
LINZI BERRY
NICOLE PAPANTONIOU
DARRELL ETHERINGTON
MAGUIRE HERRIMAN
NICK BROWN
SARAH L. FOSSHEIM
DOWNLOADING OUR HANDY
ELIZABETH DWOSKIN
SPACE MASK
MOHIT MAMORIA
A MANLY GUEST CONTRIBUTOR
MICHAEL CARNEY
PETER HARTCHER
MARK NAYLER
VICKI DENIG
CAM WILSON
JACKIE TURNER
MARGARET RAND
ANNA BRONES
JOHN HEWSON
NAAMAN ZHOU
FIONA HARVEY ENVIRONMENT
JON HAN
CRISTINA GALLARDO
PATAGONIA
PAUL TAYLOR
JAMES LAWRENCE
JAKOB GREENFELD
ROGER BROWN
JAMIE GOODE
/@CNATIVE100
ROHINI CHAKI
REBECCA BOYLE
MICHELE JAY-RUSSELL
LEE TRAN LAM
PEDRO PEREIRA SANTOS
ATLASSIAN
FAITH DURAND
LAURA MILLER
WILLIAM PARK
LISA POPOVICI
MATTHEW AXELINE
STEPHANIE MEHTA
DENI ELLIS BÉCHARD
DANIEL T. WILLINGHAM
ALTHEA NEED KAMINSKE
CAROLINA KUEPPER-TETZEL
MEGAN SUMERACKI
DONALD CLARK
JONATHAN BERNSTEIN
ELLEN WEINSTEIN
MATTHEW K. WYNIA
TESSA CHELOUCHE
CATIE L'HEUREUX